AXWRichEdit is a native component similar to the Rich Edit VCL component that comes with Delphi.
Can be used with VCL and Firemonkey (Windows and OS X). The component is designed for maximum performance. Graphic drawing operations is done by direct api calls to the operating system. The framework is not used at all for this. In fact, the only thing the framework is used for is to receive mouse and keayboard events.
The component is completely free to use. There are no limits or nag screens in the component.
The component uses a subset of DOCXReadWrite and the interface is compatible with DOCXReadWrite.
Source code is not included, but it can be purshased for EUR 49.
(Click to enlarge)
Preview documents. The editor is always in preview (WYSIWYG) mode.
Print documents.
Text formatting
formatting like: Bold, italic, underline sub/superscript etc.
Paragraph formatting
formatting like: Align, indentation, spacing, etc.
Numbering and bullets lists including user defined numbering styles.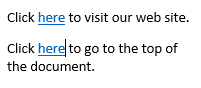 Hyperlinks.
Can be external targets like web pages and files or to bookmarks within the document.
Pictures.
Can be inserted in the text like a characters.
Spell checking.
The spell checker uses Hunspell, and open source spell checker that also is used by many well known applications like Firefox, Mac OS X etc.
Undo.
Undo to any depth.
Imports:
RTF files.
HTML files.
Text files.
Exports:
RTF files.
HTML files.
PDF files.
Text files.